TaxLink™ for ParcelStream™
A New Approach to Spatial Enablement
Property record and parcel boundary data are two critical elements of any real estate mapping application. How to combine these two data sets and integrate map-based data retrieval is a longstanding challenge that many organizations struggle with. Digital Map Products pioneered a solution to meet this challenge: TaxLink™ for ParcelStream™.
Link tabular data (prop info) to parcel lines; gain interactive mapping and thematic display

TaxLink™ is a web-service that automates the process of matching your property data to parcel boundaries. It helps you link tabular and spatial data so you can incorporate interactive mapping features and easily style your data for map display. TaxLink™ is designed to be used in conjunction with ParcelStream™, a nationwide parcel boundary solution that bundles parcel boundary data with mapping display technologies.

TaxLink™ lets you leverage Digital Map Products' industry-leading expertise in aggregating and displaying parcel boundaries and related spatial data sets in online mapping applications.
Add More Value to Your Mapping Application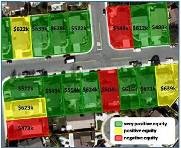 The ultimate goal of incorporating mapping into your application
is to provide a comprehensive yet convenient interface to retrieve
and analyze data. TaxLink™ helps you realize this goal by:
Eliminating the difficult and time consuming data matching task, freeing development time, and decreasing data
matching errors
Providing interactivity with your property record data and
parcel boundaries within your applications
Enabling basic thematic display for effortless styling of
map-based data (see right)



TaxLink™ and ParcelStream™ make it easy to add interactivity to your application. It also augments your spatial data offerings, providing the optimal solution for real estate mapping applications. Try TaxLink™ today and take your mapping application to the next level.

Learn More >>