Revolutionizing the Development of Spatial Applications
SpatialStream™, from Digital Map Products, is a SaaS geospatial platform that offers a new and better means to develop robust spatial applications on top of common mapping platforms. SpatialStream™ was designed to offer access to sophisticated, yet easy-to-use spatial technology and spatial data sets to facilitate the rapid development of embedded GIS and consumer mapping applications.
The collection of APIs and web services that comprise the SpatialStream™ platform make it an easy, cost effective way to implement spatial technology without needing to be a GIS expert.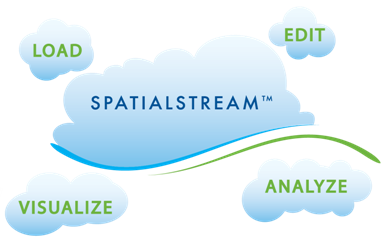 A New Approach to Spatial Enablement
SpatialStream™ offers a comprehensive set of spatial technology and spatial data sets for the advanced spatial enablement of mapping applications. Using SpatialStream™ to develop and enhance your spatial application has numerous benefits:
With minimal time and GIS expertise, developers can spatially enable their internal and
external applications
Gain ready access to the latest advanced spatial technology, now and in the future
Comprehensive spatial technology and data offerings equate to fewer solutions and vendors to integrate and maintain
All SpatialStream™ solutions are designed for high performance over the web
SaaS model means no upfront capital expenditures or unpredictable costs
Exponentially cut your time to market: spatially enable your application in days, not months or years
The SpatialStream™ platform is focused around four key functional areas: Load, Edit, Analyze, and Visualize.
Loading spatial data and spatially enabling tabular data is a first step in developing a
spatial application
Editing spatial and tabular data from a map interface and creating new spatial data is an in-demand capability of today's spatial applications
Analyzing and enhancing your spatial data through the combination of Business Intelligence and Geospatial Techniques is the latest trend for data rich applications
Visualizing spatial data with robust query display, symbology and thematic mapping capability is a must for working with large data sets and enabling decision making
Click here to learn more about the wide array of spatial features available through SpatialStream™ and acquaint yourself with a new way to develop and maintain spatial applications.
Learn more